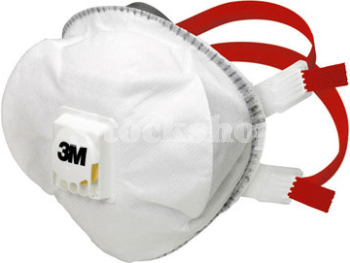 The 3M 8835+ P3 valved dust respirator mask brings the winning combination of comfort and enhanced performance, giving you protection against high levels of dusts, mists and metal fumes. Like all 3M products the 8835 P3 respirator masks are high quality, very comfortable and light weight. These respirator and dust masks are designed to deliver a secure fit to the user as they include an adjustable nose clip and also 4 point adjustable straps.
Box Quantity: 5 Masks

Red colour coded valve lettering denotes FFP3 protection level
3M 8835 FFP3 Valved Soft Seal Respirator
Expanded filter area, unique design reduces breathing resistance
Comfortable, lightweight off-the-face design
Reliable, effective protection against fine particulates
3M Cool Flow valve reduces heat build-up to offer comfortable protection, particularly in hot and humid conditions
Soft sealing ring and adjustable straps for a comfortable, properly sealed fit
Technical Specifications
CE Marking - Valved
EN149:2001+A1:2009 FFP3 R D
No detailed specifications are available for this product.
There are no downloads for this product.